With the beginning of a new school year, I have challenged myself to fix one new or unusual food for my family to try each week.  I decided to raise the stakes a little higher and make that new food some kind of international dish.  We have some picky eaters at our house, so I admit I'm not anticipating a lot of cheering and support from the crowd for this decision.  For week 1, I eased the rest of the family into new taste experiences by–ahem–completely breaking the rules.  I made something that I have made in the past (only once, and it's been quite a while) and that originated in the United States.  It may not be international, but it is intercultural:  Navajo Tacos.
Navajo tacos are a fun twist on traditional taco fare.  Granted, they take a little more time to fix than the ones most of us are familiar with, and they aren't exactly easy on the cholesterol, BUT they make great party food.  And we were, um, celebrating our last day of summer before school began, the night we ate these.  Here is the way you make them.
First, you need to make a dough.  Any yeast bread dough will work, but this is my personal favorite:
Fry Bread Dough

2 cups warm milk            1/2 cup melted shortening               3 eggs, beaten

1/2 cup sugar        3 TBS yeast (I like instant)        1 tsp salt        6 cups flour

Mix liquid ingredients together, then add dry ingredients.  Stir until smooth.  Mixture will be fairly sticky.

Let rise in a bowl for 30 minutes.
While the dough is rising, you want to use that time to prep your taco toppings and get things set up for frying the dough.
You can use any assortment of toppings you want for your tacos.  I had seasoned ground beef, refried beans, lettuce, tomatoes, salsa, shredded cheese, and green onions ready for ours.
Once the toppings were ready, I set up the area around my stove. When you start frying dough, you can't do much else.  It's best to have a couple plates ready with paper towels to soak up extra oil and some sturdy metal tongs right by the stove.
Can we talk about deep-frying?  Generally, I'm not a fan.  I've fried things in oil a grand total of five times in the past fifteen years, and two of those were with my big sister who knows how to make genuine won-tons and enchiladas.  (I guess that's my disclaimer, before I tell you how to fry things in oil.  Sorry for the havoc I am about to inflict upon your arteries.)
So, the important thing is to have your oil hot, but not too hot.  I started warming my oil on medium heat about 10 minutes before the dough was finished rising.  I only used about 2 inches of oil in a pot with tall sides.  You know your oil is heating nicely when you begin to see little crackly lines forming at the bottom of the oil.  To test the oil, you can either flick a little water at it and listen for a crackle, or drop a small piece of dough in.  If the dough sinks to the bottom of the pan and stays there, your oil isn't hot enough.
If the dough sinks, the oil bubbles around it, and then the dough floats up to the surface, then your oil is just right, and you are ready to start frying.
To make the fry bread shells, just take a ball of dough, pat it into a circle–not too thin, and drop it in the oil.
Turn it over when you see the edges getting golden, and let it cook a little longer.
Then, bring it out of the oil and onto a plate.
This recipe makes quite a few shells.  I made the first few large, and the rest small.  Watch your oil carefully as you continue cooking.  See how some of my shells are darker than the others?  The longer the oil is on the stove, the hotter it gets, and the faster the dough will fry.  So, you may need to adjust the temperature of your stove accordingly, and be ready to flip the dough faster.
Also note how my circles are not at all perfect.  In gourmet circles, they call that "rustic".  So don't get hung up on perfection.
Once you have a few shells ready, the fun begins.  Layer on the toppings to your heart's content and chow down!
The nice thing about a dinner of Navajo tacos is that you are making dessert and a main dish at the same time.  Check out how we enjoyed the leftover shells–as scones!
Mmmmm…..this one was topped with strawberry jam, but you'll love them with honey butter or cinnamon sugar, too.
So, I'm happy to report that Week 1 of International Food Fun went extremely well!  Next week I vow to really go out on a limb and make something I've never made before.
Check out some of my other recipes, here.
I'm linking up to the following parties: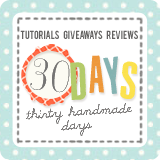 Tutorials and Tips Tuesday at Home Stories A2Z