If you guessed from yesterday's post that we're moving to California, you guessed correctly!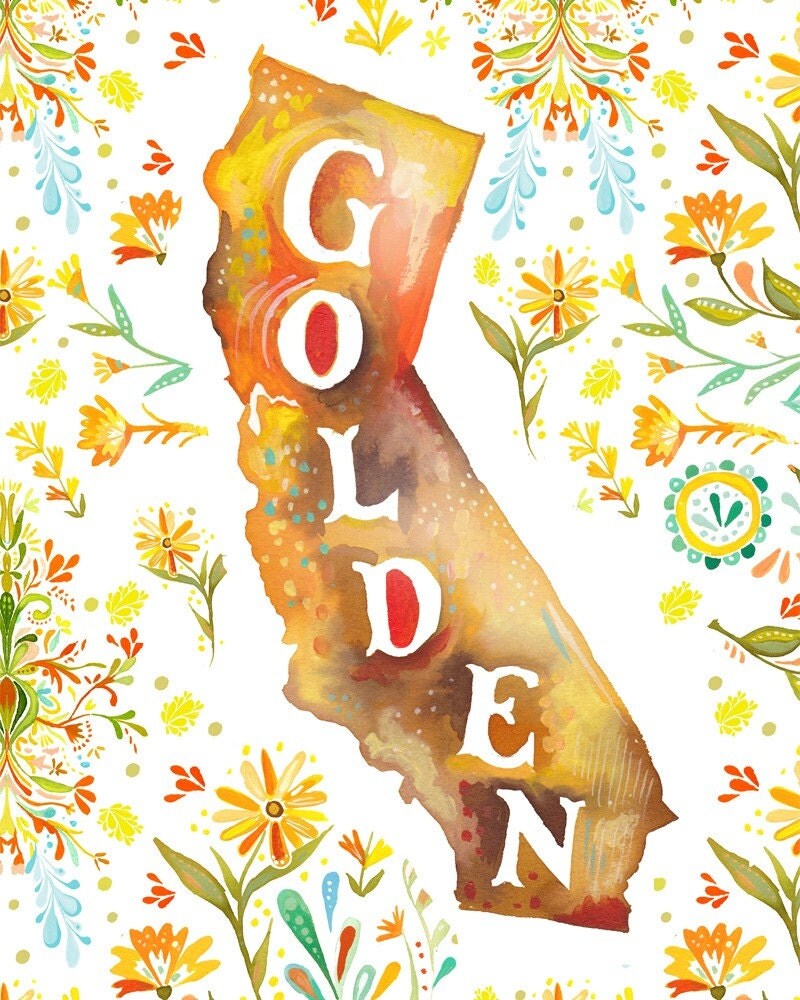 Image:  The Wheatfield on Etsy
The Golden State.
Yes, that is a big move.  Yes, I am freaking out about the cost of living in California.  And yes, I'm super excited about that famous California weather.  (My replies to the three of the four most frequent responses given when we announce our intentions to relocate our family.)
"Why?!?!?" is definitely the fourth response to our announcement.
Well, we've really wished that we lived closer to our families ever since Lily died.  We had such an outpouring of love and support from everyone around us from before Lily's birth to long after her death–not just our family members.  But something about having to say goodbye for a time to our little Lily just made us want to pull the rest of our family closer.  Soon after we returned home from burying Lily in my hometown, our other three children began praying for their dad to find a job "by their cousins."
And boy, did their dad and I try to bring fruition to those prayers.   We spent countless hours researching companies that were looking for Bionic Man's unique skill set.  We pinpointed areas that would have the perfect mix of highly specialized medical facilities, jobs for Bionic Man, great schools, and be less than a day's drive from our hometowns.
For a couple of years, we were kinda obsessed with Colorado.  Bionic Man could get interviews everywhere but Colorado.  And interview he did, in all sorts of places west of the Mississippi.  But for various reasons, none of them felt right.
Then, we began learning more about Superkid's metabolic disorder.  When I realized that cold weather really exacerbated her symptoms, I realized that Colorado just wasn't going to cut it, and neither was Utah.  We needed to get ourselves somewhere with mild winters.  Because of the number of excellent pediatric facilities available, last spring we limited the job search to California.
By last summer, as we drove across Kansas to Utah for the third time in three years, I turned to Bionic Man and said, "The next time I drive across Kansas, it had better be in a moving van."  And as summer waned and fall began, I felt a stronger sense of urgency:  I did not want Superkid dealing with the effects of another cold winter.
We were blessed, in the perfect timing of our Heavenly Father.  The Indiana winter was mild, the right job came along in a Northern California town we feel really good about.  And the cousins our children were praying to live near?  Well, one set of cousins from each side of our family will be moving to the same area in California this summer, too.  Coincidence?  I think not.
So, even though it is a big move to a place that is very different from the Midwest and I am freaking out about the cost of living…I have a sense of confidence that this move is the right thing for our family right now.  And that brings a lot of peace during the stressful/busy/exciting days of orchestrating a cross country move.
I'm going to leave you with a few of the local sites we'll be enjoying once we get to our new home.